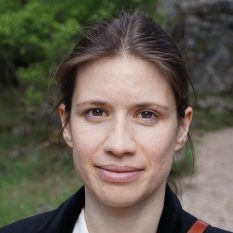 I am a Research Associate (Wissenschaftliche Mitarbeiterin) in SACRIMA / The Normativity of Sacred Images in Early Modern Europe with the project The Age of Sanctity: Images and Cults of Child Saints in Early Modern Europe. Before moving to Munich in April 2017, I was a researcher at the department of History and Civilization at the European University Institute in Florence. I received my Ph.D. in December 2016 with a dissertation entitled "Art, Piety and Conflict in Early Modern Spain: the Religious and Artistic Patronage of Cardinal Bernardo de Sandoval between Toledo and Rome (1599-1618)", conducted under the supervision of Luca Molà and Fernando Marías. In 2018, my dissertation was awarded with the James Kaye Memorial Prize for the Best EUI Thesis in History and Visuality. My doctoral research was fully supported by a Salvador de Madariaga fellowship granted by the Spanish Ministry of Education (2012-2016), including a research stay at The Courtauld Institute of Art in 2015. I also hold an M.Res. in History from the EUI (2013), an M.A. (2010) and a B.A. (2008) in Art History from the Universidad Autónoma de Madrid.
My research centres on the Spanish monarchy and the uses of sacred art during the sixteenth and seventeenth centuries. I use an integrated approach to analyse visual and material culture, paying close attention to the interplay of images with printed sources and archival manuscripts. I have particular interest in the dynamics of ecclesiastical patronage; saints' cults and relics; and the interactions between institutional norms and visual norms in Spanish sacred art. During my Ph.D., my research focused on the political uses of religious and artistic patronage. To this end, I analysed the construction of the image of Cardinal Sandoval y Rojas, archbishop of Toledo and Inquisitor General of the Spanish monarchy (1599-1618), through his patronage of religious art, sacred history and architecture. An article stemmed from my dissertation has been recently published in the peer-reviewed journal Bulletin of Spanish Studies. Connected to my Ph.D., I also explored the artistic patronage of the networks of the Spanish cardinals in Rome, research that has been published in Boletín del Museo del Prado, Royal Studies Journal and Archivo Español de Arte.
In connection with SACRIMA, my current research project examines the visual normativity of images of child saints in early modern Europe. I am collaborating with the team on the creation of a digital library of early modern texts on sacred art, and on a survey of contested sacred images in European archives, with special responsibility for the Iberian context.
SELECTED PUBLICATIONS
"Wounds on Trial: Forensic Truth, Sanctity, and the Early Modern Visual Culture of Ritual Murder", in Contested Forms, ed. Chiara Franceschini (Turnhout: Brepols, forthcoming, 2019)
"The Virgin Embracing the Virgin: Eugenio Cajés' Short-Lived Iconography of Our Lady del Sagrario in Counter-Reformation Toledo", Bulletin of Spanish Studies 96 (2019)

Read here

"Roma 1619. Retratos de la nación española en la galería de Ottavio Leoni", co-authored with Yuri Primarosa, Archivo Español de Arte, vol. 90, nº 360, 383-392 (2017) Download here
"Las relaciones artísticas del cardenal Quiroga con Italia: Un retrato veneciano en las colecciones del Museo del Prado", Boletín del Museo del Prado, vol. XXXIV, nº52, 10-16, 2016 Download here
"Possessing Rome 'in absentia': The Titular Churches of the Spanish Monarchy in the Early Seventeenth Century", Royal Studies Journal 3, no. 2, 48-68 (2016) Download here
SELECTED TALKS
"La niña ante la Puerta Dorada: intercesión, limpieza de sangre y santidad infantil en la edad moderna", in Coloquios investigadores, Department of Art History, Universidad Autónoma de Madrid (2019)
"The Politics of Childhood Sanctity in Early Modern Spain: An Altarpiece of Saints Justus and Pastor in the Royal Basilica of El Escorial", in Conflicts of Representation in the Late Renaissance Iberian Worlds, a panel organized by Fabien Montcher, RSA New Orleans (2018)
"Agony and Softness: The Crucified Holy Child of La Guardia", in Holy Children, Liminal Bodies: The Status and Materiality of Infancy in Early Modern Visual Culture / SACRIMA International Conference, ZI – LMU Munich (2017)
"Controversial Wounds, Ambiguous Bodies: Images of Child Martyrs in Early Modern Europe", in Contested Forms: The Limits of the Sacred Image and the Normative Power of Art in Early Modern Europe / SACRIMA International Conference, ZI – LMU Munich (2017)
"Sacred Gifts for a Cardinal. Politics, Diplomacy and Relics in the Spanish Monarchy", Courts, Empires, and Political Cultures in the Early Modern Era, EUI, Florence (2016)
Research
In this project, Cloe Cavero explores the images and cults of child saints, a transnational yet controversial form of sanctity that became increasingly celebrated in the early modern period.