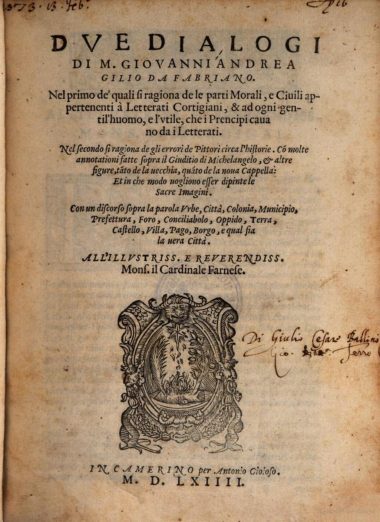 At the beginning of his treatise, Giovanni Andrea Gilio addresses his initial motives for dedicating himself to the subject of artists' mistreatment of art.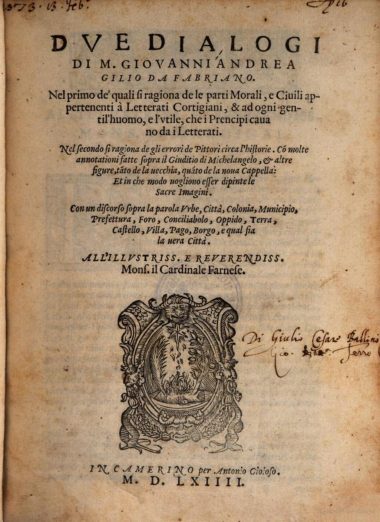 The subject of the passage is the inadequate training of contemporary artists in comparison to antiquity, to which the participants attribute the errors in art. They cite ancient artists, such as Eupompus of Sicyon, as a positive reference.
Conflict
Contemporary vs. ancient artist
Untruthfulness/Not probable/Not corresponding to history
Mention
Fabriano, 1564
Subject
historic painter
;
poetic painter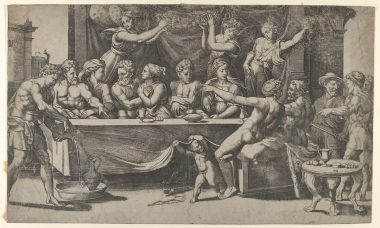 Rome, Palazzo Farnese; Vatican City, Vatican Palace ; Rome, Villa Farnesina
One of the central ideas of the treatise is the division of painting into three different categories.
Conflict
Capriccio
Clothes anachronism/Errors/Adornment
Decorum
Ignorance/Negligence of the artist
Judging art
Outer appearance
Untruthfulness/Not probable/Not corresponding to history
Mention
Fabriano, 1564
Subject
historic painter
;
mixed painter
;
poetic painter