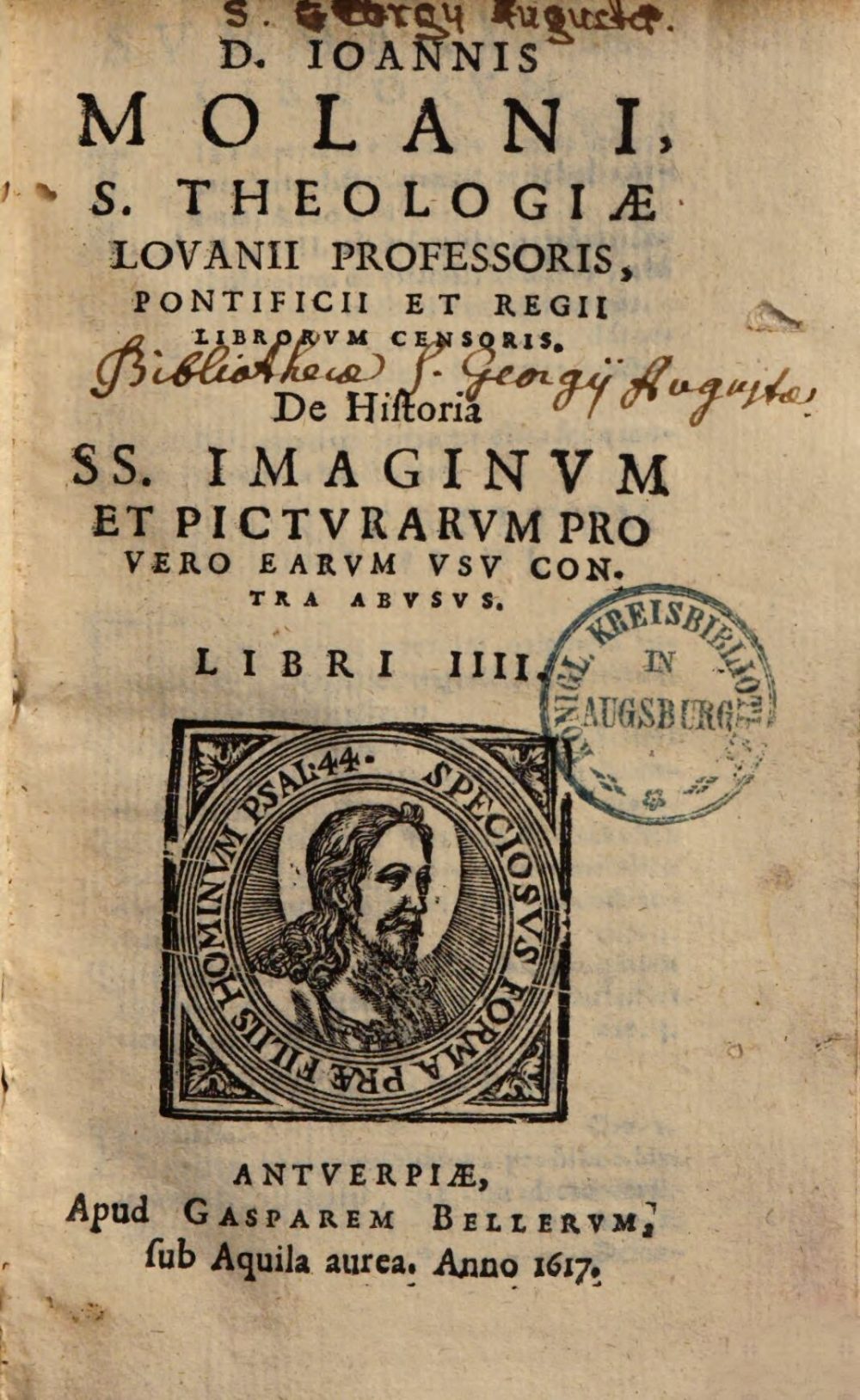 In book 2 chapter 38, Molanus further examines the question of what kind of decoration is allowed for religious buildings and the adornment in religious images themselves. This is an interesting point considering the time frame and the location in which Molanus wrote his treatise, it is rather clear how he tries to balance his position between the accusation of the Protestants, the will of the commoners, and above all the instructions of the Church regarding art and decoration.
The first matter Molanus makes clear is that adorning churches and other holy buildings is an ancient practice going back to king Solomon; secondly, he emphasises that these decorations should not be of a profane origin or depict profane stories because this has to be condemned by Christians; thirdly, some decorations, even if they are incorrect, have to be tolerated for the sake of the uneducated.
"Take note, however, of those words of the Statutes, that if it is aptly to be retained by the words of [St.] Bernard, among other things, that bishops are debtors both to the wise and unwise. And therefore for the sake of the weak, they have to tolerate even some external adornment, while respecting the honour; in fact, the clothing of Aaron's Pontifical clothing was externally decorated in such a manner, as was the tabernacle, and finally in the temple and house of God; Solomon had the whole length of the walls and panelling carved in chisel and lathe, and had them depict cherubims and palm trees, lions and oxen, pomegranates, pomegranates, and various other pictures. Moreover, if we need to discuss this further, it is highly probable that there was nothing profane in this sacred place since the oxen and palms and stones indeed had a certain function and constructive meaning, of which Sanders in the last book concerning De adoratione imaginum honoraria, ch. 3. Also, in churches should not be depicted any pagan stories, that is a pagan custom, which has to be condemned by Christians and should not be imitated. The best example can be found in Virgil, namely the reproduction in painting of the complete story of Troy, which Aeneas contemplated in the temple of Carthage, which had been founded by Dido. But let no one think that the picture is profane if one wishes that he who prays honourably and humbly desires to be attached to that image which he leaves in the memory of his Church. For I remember when I was reviewing some pictures of antiquity I also noted two, which most recommend this observation as the most ancient.
"Adverte autem ad ea Statutorum verba, si commodè et Bernardi verbis hoc inter alia retinendum est, quod Episcopi et sapientibus et insipientibus debitores sint, ideoque propter infirmos tolerare etiam debean externum aliquem ornatum servata tamen honestate, cum externus huiusmodi ornatus fuerit in Pontificali indumento Aaronis, et in tabernaculo, ac postremo in templo ac domo dei: quam Solomon in parietibus et tabularis per circuitum sculpsit variis celaturis et torno faciendo in eis Cherubin et palmas, leones et boves, mala granata, aliasqu varias picturas. Quanquam si exactius discutiatur, verisimilius sit in hoc loco sacro nihil fuisse prophanum, sed et boves et palmas imo et lapides certam utilemque habuisse significationem, de quo Sanderus in posteriori libro de adoratione imaginum honoraria, cap. 3. Non sunt itaque prophanae historiae in Ecclesiis pingendae, qui mos ethnicorum fuit à Christianis repudiandus non imitandus. Cuiusmodi ferè est, quod Virgilius Aeneam in templo Carthaginis à Didone conditio, totam Troianam historiam depictam spectasse narrat. Nemo autem arbitretur prohanam esse picturam, si qui se honestem et humiliter precantem appingi cupiat in ea imagine quam in sui memoriam Ecclesiae relinquit. Memini eni me cum vetustatis imagines aliquot recenserem duas etiam annotasse, quae hanc observationem velut antiquissimam plurimum commendant."
Source
Molanus, De historia sanctarum imaginum et picturarum (1617), book 2, ch. 38, 135-136
Permanent Link
https://www.sacrima.eu/case/the-decoration-of-churches-is-an-ancient-habit-but-should-not-be-done-in-a-profane-manner/